Sculpture and Monuments:
British Sculpture in India ~ New Views and Old Memories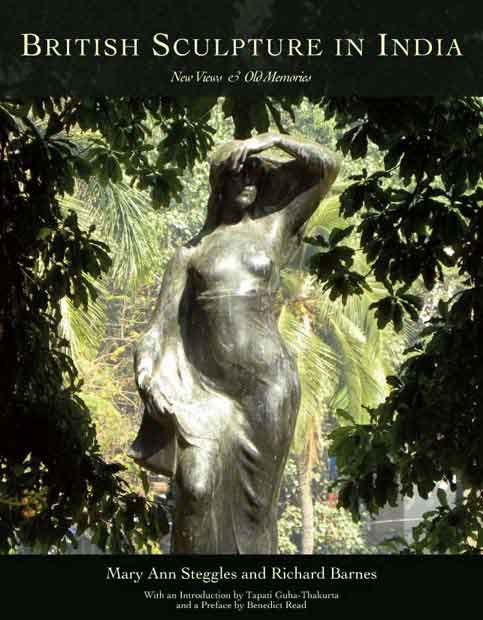 British Sculpture in India ~ New Views and Old Memories
Mary Ann Steggles & Richard Barnes

When Mary Ann Steggles began her dissertation on the subject of statues exported from Britain to colonies in South Asia, the Canadian post-graduate, now Professor of Art History, had picked a subject which had fascinated British and Indian historians for some time.

It concerns a parallel collection in India to the sculptures in the streets of Britain, dating from 1790-1940 and coming from the same esteemed sculptors. Over two hundred marble and bronze figures were shipped, including works by Bacon, Baily, Banks, Bell, Boehm, Brock, Chantrey, Flaxman, Foley, Frampton, Gilbert, Jagger, MacKennal, Marochetti, Noble, Pomeroy, Kathleen Scott, Thornycroft, Weekes, Westmacott and Woolner.

The aim is to present the reader with new and sometimes first views of the 'collection'. This involves some debunking as there are misconceptions, for instance that the sculptures are disregarded in the host nation. It is an easy story for any journalist with a picture of an old statue covered in cobwebs in some out of the way godown. Sic transit gloria mundi etc,.

The reality is that the great majority of sculptures by British artists have survived, largely due to their recognised art qualities, and not because of any obligation. They are part of Indian history and belong to the Indian government. Many were originally commissioned and paid for by Indian nationals. Others, a few, have been removed to places of safety, away from the fury of motor traffic, and in special cases repatriated. Decisions about some of the statues still have to be made and this book is likely to be first reference in future discussions between numerous governing bodies, city planners and state museums in India. There are post-colonial implications which informed writers will discuss elsewhere, but here the viewpoint is concerned with art and history seen from a present day perspective.

British Sculpture in India ~ New Views and Old Memories has four constituent texts. These are an Introductory Essay (a view from Calcutta) by the author and historian, Professor Tapati Guha-Thakurta, placing the general subject in a modern context in India. This is preceded by a Preface by Benedict Read, Senior Visiting Research Fellow at the School of Fine Art at Leeds University, Former Chairman of the PMSA and author of Victorian Sculpture, the primary source of inspiration. There follows a list of the sculptures and about 200 concise descriptive essays written about them. Each entry is structured with the title of the work, followed by maker's name, date and location before a pithy outline in less than 300 words, entwining subject and artist biographies, sculpture anecdotes, design details and reports on condition. The descriptions have a clear format which avoids confusion arising from dozens of Empress Victorias and other duplications, since some statues have been moved more than once. They are prepared by Richard Barnes, who has written about 19th century sculpture in books and papers. He combines this interest with a general sense of British colonial history and the illustrative dynamic of photography. He is a fellow of the Royal Society of Arts and the Royal Geographical Society and has been for ten years an ordinary member of the PMSA. He compares Bombay's 'Flora Fountain' with the best and contends the equestrian works in India surpassed those in the mother country. The scope of this part of the book, which is both inventory and gazetteer, is widened to include the figurative marble memorials in the Anglican cathedrals and churches in Madras, Calcutta and Bombay, adding a number of earlier works by Georgian sculptors such as Bacon Jr and John Flaxman. In terms of illustration this adds tigers, palm trees and mourning madonnas to the volume of public statues of viceroys and generals.

The most extensive and important part of the book is the writing of Dr Mary Ann Steggles, Professor of Art History at the University of Manitoba, the acknowledged expert in the field with twenty years' experience of the subject and a myriad of research visits to India. She offers the full historical base and account of the commissioning and exportation of statues from Britain to India. Her research on British statues in South Asia has been published in many journals and she authored a small book on the topic in 2001 and continues to serve as a consultant on the history of the statues for various institutions and governmental agencies. Professor Steggles provides a historical base and account of the commissioning and exportation of sculptures from Britain to India, distinguishing statues and discussing their overall dispersal, commissioning, and present status.

British Sculpture in India ~ New Views and Old Memories is designed to be a pleasure to look at with a high concentration of photographic illustration. Many are historic plates from previous centuries and these are balanced with colour photographs made by Barnes in 2010 and 2011. Placed within and around the text, some depict a reference, others are all-in-one 'record' shots. The selection, treatment and placing of the photographs are designed to 'show off' the works, and exhibit the skill of the artists.

Authoritative, illustrative and bulging with histories, here is the only book to record and reflect the largest 'collection' of British sculptures outside Britain. It is a rare book to be commended to devotees of sculpture in five continents and anyone interested in the endless peculiarities of India's connection with Britain.
Published with the assistance of the Henry Moore Foundation

British Sculpture in India ~ New Views and Old Memories
ISBN: 978 1872914 41 1
380pp, 200+ colour illus December 2011. £50 h/b
~ Responses, reviews and recommendations
"This book fills a crucial gap in the study of British Sculpture between the late eighteenth and early twentieth centuries. . .Locating and photographing such sculptures in frequently inhospitable security and bureaucratic conditions represents a triumph on Steggles' part. There is more than a litle of the conquering heroine of the Raj in her intrepid commitments to her cause. . .Barnes is an amateur in the original and best sense, with a good eye for underrated practitioners such as Francis Derwent Wood, above all manifesting an infectious enthusiasm for the subject and one that is clearly shared with Steggles. British Sculpture in India both educates and entertains, and it is destined to be a major source of reference in future years.
Mark Stocker, The Burlington Magazine, p.800 November 2012.CLIV

"...British Sculpture in India provides a very welcome, accessible and informative introduction to a major but previously neglected element of British sculptural production throughout the 19th century and beyond, and does credit to the Henry Moore Foundation which has supported the publication".
Thomas Tuohy, The British Art Journal, Vol XIII,No.2 (December 2012)

"While the book is not without faults, it is a magnificent achievement, and will certainly satisfy its aim of drawing attention to the riches involved and attention to the works, so that more information can be discovered and mistakes corrected...It is well produced, full of valuable information, is good value, and should be in the library of anyone interested either in India or in British sculpture of the period 1800 to c1930."
Henry Noltie, Sculpture Journal Vol 21.2 (2012)

"A great strength of the book, is the extensive catalogue of British sculptural works in India, or which had been in India and since repatriated, compiled by Richard Barnes, using Steggles' researches, his own, and that of others. Each statue has a brief but scholarly description of origin and most are illustrated with a fine set of images. There are almost 300 photographs accompanying this catalogue and the various texts. It is this great overview of previously almost unknown works that makes the volume a must for scholars of this period of British sculpture. In this respect it is a worthy companion to Benedict Read's 'Victorian Sculpture' and Susan Beattie's 'The New Sculpture'."
Dennis Wardleworth, Cassone Art History Online, November 2012

"Steggles and Barnes have done an immense service by revealing the treasury of statues, busts and memorials sent to India in the nineteenth and twentieth centuries; abundant evidence that the talents of our finest sculptors were fully committed to those prestigious commissions. Of equal if not greater importance is the light their book sheds on the history of this artistic heritage over the past sixty five years; the confirmation that there was no iconoclasm; that nearly all works inside buildings such as churches, colleges and museums remain in situ; that only nine works have actually left India; and that where statues in public places have been moved, they have invariably been relocated to sculpture parks. By drawing attention to the fact that the conditions prevailing in some of these parks could be improved, Steggles and Barnes have perhaps suggested a field for fruitful collaboration in the future between conservation experts in Britain and in India. Congratulations to both authors".
Dr John Sankey, Victorianweb (an excellent website!)

"This is surely the definitive book on statuary in India, and searching for those that still remain on public view will provide an interesting tourist diversion. Recommended".
Dr Rosie Llewellyn-Jones, Chowkidar (BACSA) Vol 13, Issue 2, Autumn 2012

"I finally got the book. It will always have a pride of place in my library. The printing standards are also high and I am not surprised that despite the Moore Foundation assistance its price has been pegged at 50 pounds. Bringing out books with so many colour plates and using such fine paper and in hardback is not an easy proposition. I have grazed through it and am very impressed by what little I have seen. Lot of little-known details, anecdotal, yet scholarly but not academic. Quite a pungent book. I love it!".
Brij Sharma, Journalist and author of 'An Indian Englishman ­ Memories of Jack Gibson in India.
________________________________________________________

Email
contact@frontierpublishing