Frontier Travel writing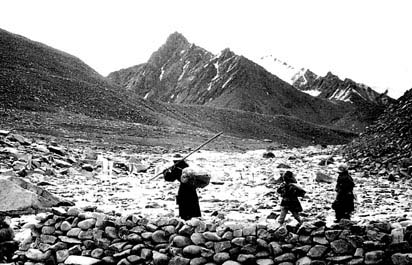 Calling from Kashgar:
A Journey through Tibet
Calling from Kashgar: A Journey through Tibet
Rod Richard
208pp, illus,hb
ISBN: 978-0-9508701-7-5, £12.95

When Rod Richard was in Lhasa in 1986, there were fewer restrictions to travel than ever before, or since. Tibet had long been a forbidden kingdom, separate from the world below, yet tangled in the politics of surrounding empires. Aged 36 at the time, his background of studies in Chinese and political science and his interests in hillwalking and photography were well adapted for these travels. His story begins in China and leads to a journey across west Tibet to Kashgar.
Rattling over the high desert on the backs of old trucks, he meets PLA army convoys, solitary tribal groups and pilgrims of all sorts on their way to Mt. Kailas. This is the father of all mountains, the sacred peak at the centre of the universe and a means to enlightenment. Powerful feelings emerge as our guide walks the parikarama at 18,000 ft. We benefit from an informed viewpoint, not only sharing the adventure and humour, but learning something of Tibet, as the author writes of earlier quests,including the infamous British expedition which slaughtered the Tibetan army.
Such history introduces the all-abiding question of Tibetan nationalism today, seen from Peking as the troubles of a distant minority.With care and great understanding, he describes the real situation and his thoughts for the future encourage sympathy and hope for Tibet. This is a book which draws the readerís heart forever North of the Himalayas.


The massacre at Karo La in 1904, the flight of the Dalai Lama; and the periodic quietening of restive Khampas have all led up to giving the Roof of the World the look of a garrison country. Richard, something of a sinophile, consoles himself with the speculation that people never get the Governments they deserve. Yet he will never be same again. Long after the last page is turned, something of the continuous stream of phonetic images will stay with the reader, Drogpas and khampas, yurts, chang and tsampa; Jokhang, Ramoche, Ganden, Shigatze, through the valley of Amitabh to the coda - an epiphany in the parikramas of Kailash itself.
V.K.Vij. /Statesman

India / rights sold to Penguin Books, India.
All other publishing rights retained/ available
Frontier Publishing.©R.Richard.
________________________________________________________

Email
contact@frontierpublishing